I was supposed to collect my suit on Thursday, so right after work I head to Paramount to the shop to get it. And Thursday like any other day, it's raining. I was lucky that still can use SMART tunnel before it closed when the rain starts to get heavier.
So when I reached the shop, I was waiting for May to finish work so we can collect the suit together. When we walk upon the shop, then only we knew that the shop is closed for 2 days. And the tailor promised me that I can collect it that day! So it's double whammy! First the rain, and reached the place, the shop is closed. And since it's only 6, we figured out that if we want to head home, it will be hell with the buka puasa and rainy situation.
So with no suit to collect, we head to 1U to have dinner. In order to avoid the buka puasa crowd, we decided to eat something not that popular. So we head to…..
Pasta Zanmai!!! Have heard of this restaurant before from friend and family member that it's quite special. They have a few other outlets namely Sushi Zanmai but I think this is the only one with Italian fusion on their dishes.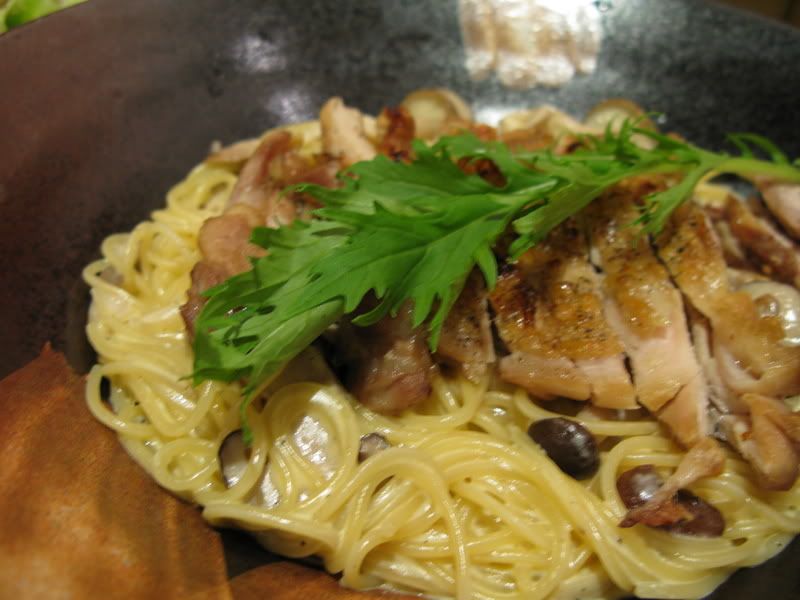 Toriniki to Konoko no Cream Sauce (Chicken & Japanese Mushroom Cream Sauce Pasta)
Unagi Kabayaki to Onsen Tamago (Roasted Eel & Hot Spring Egg Pasta)
I had the Unagi set while May took the Cream Sauce Pasta. As for the taste, it's quite special as it's fusion. The Cream Sauce pasta were quite good, not too creamy and not too full. Normally for carbonara pasta it's normally quite creamy in Italian restaurant that will make you feel 'jelak' after a few bites, but not this one. The chicken taste quite well too, not too much seasoning and grilled to perfection.
The Unagi set that I have is plain as it is not sauce based. The eel tasted good and with the hot spring egg mixed together, it's quite alright. I just need to add in some chilli powder so that the taste wouldn't be so bland. Overall it's a good dinner after all the traffic jam, raining and being ffk'ed by the tailor.