I was supposed to post up this blog on this day itself, but things got a bit tied up for the past week, hence the delay. Ok lar, apart from the registration day…I am also tied up with a TVB drama the whole of last week and completed the whole series in 5 days.
Anyways, back to registration day. All went well on this special day. Woke up like work day to prepared, reached the temple about quarter past 7. Only got to know that the door to the hall will only be open at 730am. Well at least, they follow the agenda. And the whole holy matrimony was supposed to start at 8am, but there are a few couples missing and yet to register. How can this happened? I guess Malaysians will always be Malaysians, getting register also can be late wan.
The ceremony didn't get to start until about quarter past 8 where it kicks off with the arrival of the monk. After hearing a short speech from the organiser, all of us went out to take a group photo.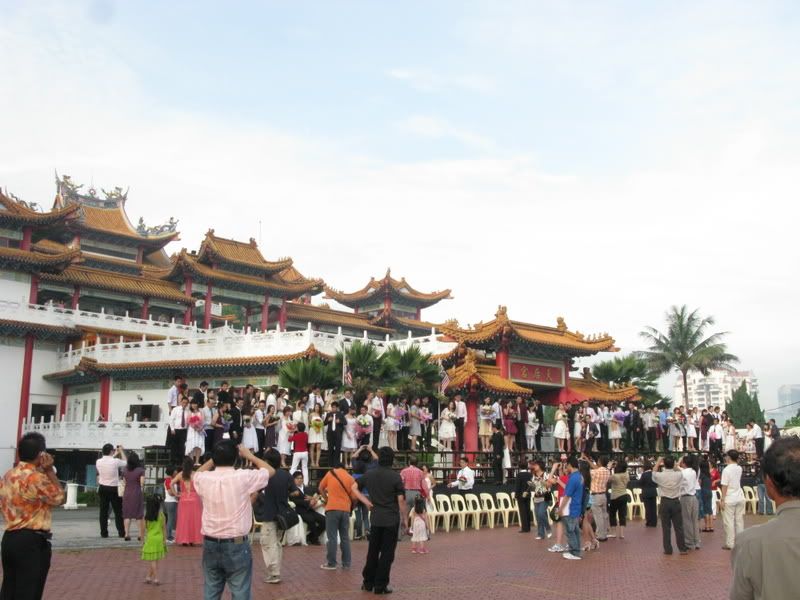 This was a shot when all of the couples are preparing to take the group photos. There are more than 250 couples getting registered on that morning alone, and another 100+ couples in the afternoon. Well I guess being chinese, all will opt for this auspicious day.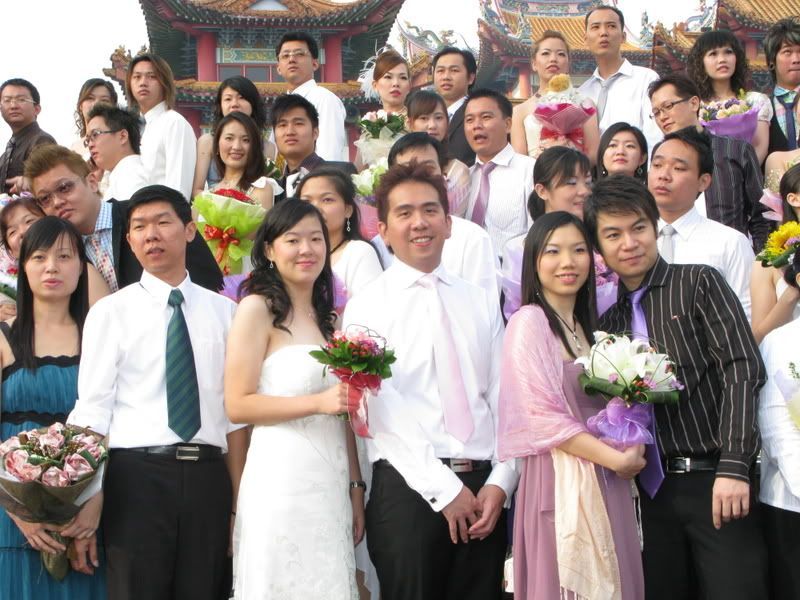 Us posing for the camera and try to notice the one on your left, a Lin look alike.
Right after the group photo session, we then need to queue up back to the hall to get our blessing from the chief monk (which he spray some water on us using a pink carnation as below)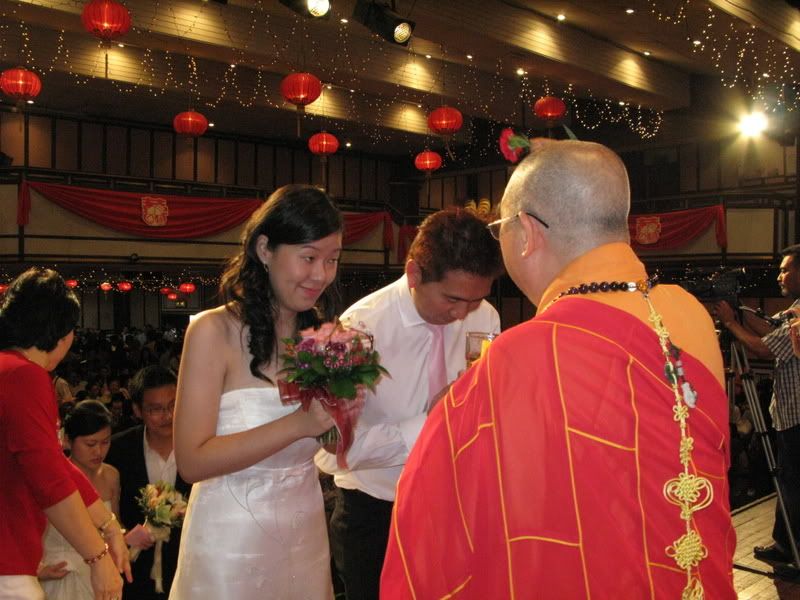 And then we have to listen to the monk talk about the facts of life. All in Mandarin. So May is clueless on what is he saying and the whole ceramah took more than half an hour. Right after that, we were all requested to stand up and exchange vows in front of 3 commisioner of oaths, and exhange our rings. (Sorry lar, no picture here as my goo cheh who is our photographer and also a banana didn't know that they are asking us to exchange vows, coz they all speak in mandarin)
And then it's waiting to get our signatures on the paper. And it took more than 1 and a half hours for our turn. Mainly because our queue the commissioner of oath is super-slow. Anyways, it was once in a lifetime experience and cherishing every moment of it becoming a married man. So now, waiting for the rest of you guys to join the ranks…….
One for the camera after the signing.
Another pic outside the hall with our marriage certs.