Guess where will I be spending time this coming Saturday?
A live performance by this guy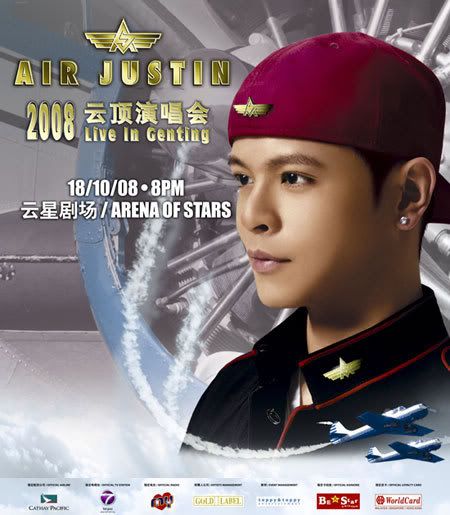 Yup I am off to his Air Justin Live In Genting concert this Saturday. And the best part of all that is I got 2 PS1 tickets from a competition that I entered last week. Finally I have got some luck!
There's this competition in The Star, Star Two last Thursday and there's this article that says the contest is extended until Friday. So I was thinking, maybe not much participation so what the heck, might as well try my luck. Besides his singing is not all that bad, if you are not good, you won't be having your 1st concert in HK Colosseum after only launching 1 album right?
So the question that they asked, is what's the theme of his concert. Pretty straight-forward right? It's there in the ad. Second question, named one of his album. So I googled up and just hentam 'No Protection'. The last part is the tricky part, complete a slogan for the following sentence, I wish to attend Justin Lo's concert at Genting because…….
So what will you put?
At first I was thinking, because I am his biggest fan! (but then I don't think I am) cannot-lar. Hmm, maybe because he's song is very 'lum' (then again, not so appropriate either right?). So at last, I leverage on another person and come up with this
because I would like to surprise my wife as she's a big fan of Justin!

What do you think? To tell you the truth, I only come up with this after 3 minutes of brainstorming and May is really not that big of a fan of him. But then again, if it wins you 2 concert tickets, then what's the loss right? Will try to see if pictures are allowed, coz normally they don't, like the Jacky Cheung concert I went earlier this year.
Ok ok, apart from Justin, you will notice that there's a small slide bar on the right. Yes Siewmin, sorry I didn't post it up sooner but hopefully this will satisfy your appetite. This might not be some roti planta or roti empat segi but at least your eyes will be full. I will be keeping this slide show for a while, but if you want to see the bigger one, here it is.