Isn't it ironic sometimes when you want something so much and you don't seem to get it? And then suddenly when you least expected it, it comes your way?
I am talking about iPod. I remember back in 2006, I so wanted an iPod but the price is way too much for me to afford. Given the fact that I am owing my banks quite a lot of money due to the repairs and services done on my previous car. I wanted one, but I don't really know what I want it for. I guess it's just one of those things that you want because it's the latest gadget, and being a gadget freak myself, it's normal that I feel that I need to get one so that I won't left behind.
So my wish got answered during Christmas time in 06, when I was picked in a lucky draw for a survey I done. So I received this as a result…

My very first iPod, iPod Video 30G 5.5G. It was quite fun to have a portable music player around that is able to display music video as well. So I also spent a considerable amount of time trying to convert videos into this iPod. Although it's big in storage, it's also big in size compare to the Nanos and the Shuffles, so bringing it to the gym is a bit awkward as the weight will somehow affect your workout. And basically the gym is the only place that I put it to use, because I can't listen to it during working hours and definitely not in my car. So although having it, it's just a bit redundant.
Then come my 2nd iPod, the Nano 3rd Gen.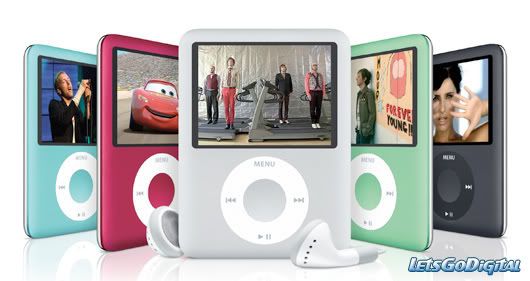 I got this for a quarterly award prize in my department in 2007. Although the thought of selling it is tempting, somehow I gave it to May as a Christmas gift. Don't really know if she like it or not coz she's not really that tech savvy. But I think I already know the answer now coz it ended up back in my place. The Nano is really small and compact, but it's I have put my hands on previous generations of Nanos and the dial is too small to my fingers liking. (Ok lar I have big fingers!)
And then later in the year, as we completed one critical project for the market that we are serving, we are awarded with this.
The 3rd Gen of iPod Shuffle. Small and even more compact compare to the Nano, this is great for the gym. But I already have 2 iPods partially collecting dust in my cupboard, I don't think I need another one. Hence I sold it off for RM300.
So coming this year, we achieved our target in the same project again, and this time the market will be rewarding us with the new iPod Nano 4th Gen.

After knowing that our team will be getting this in the coming weeks, I have decided to finally let go of my very first iPod. The iPod Video, and someone did offered me RM400 for it. So I think it's a good deal, funding for some of my wedding expenses, I thought. With the newer features on this new generation of Nano, I think it will suit nicely when my anticipated XBox 360 game called Lips launching in November. Then I can save quite a lot by having a home karaoke system.
So there you go, my iPod, my story. I wondered what colour will my market be sending us….?